Biker-Billy Grunge Forefathers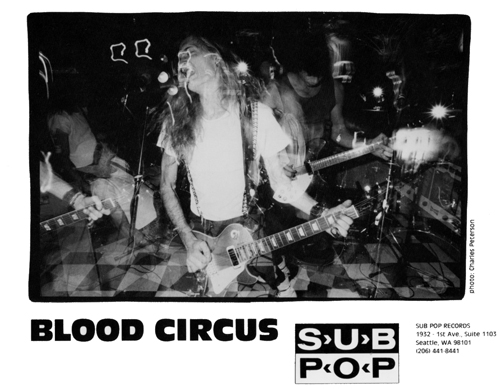 Often considered among the forefathers (or deadbeat-dads) of what later became "grunge," Blood Circus was a 4-piece surf-billy, punk-biker-band comprising of frontman Michael Anderson (formerly of Denver's Dogmeat & Brother Rat) Doug Day and Tracy "T-Man" Simmons (both previously w/Seattle's Neon Cross) and Geoff Robinson (Seattle hardcore band Extreme Hate's lead guitarist).
Blood Circus was also considered among the worst selling bands in Sub Pop's stable.
The Sub Pop sound became world famous and made tons of money for pretty much everyone involved except for Blood Circus who, retreating humbly in the latter part of 1989, preferred it that way (or so they like to claim).
But Blood Circus songs endure. Ironically emphasized, there is confused honesty. It's almost as if they did not care what others thought about their music. The members of Blood Circus were playing for their own listening pleasure, and for beer. As myopic as this may seem, it works in the very small catalog that they leave behind.
Reciprocal-recorded "Six Foot Under" b/w "Two Way Street" (assigned "SP 13") was among the records that convinced Cameron Crowe Seattle was beginning to congeal into a bonafide music scene in the late 80's. He later went on to include "Six Foot Under" as supplemental music in his chronology of the monolithic superstars Pearl Jam, "PJ20" (2011).
Primal Rock Therapy, (SP 22) the subsequent follow-up EP to the single release was recorded in 1988 on Reciprocal's brand-new Tascam 16 track, and while the EP failed to receive the critical accolades of stable-mates Mudhoney, TAD, and Nirvana, according to the Rolling Stone's Grant Alden, it was savagely blunt, and "did not contain Mudhoney's sardonic humor and Nirvana's surprisingly pretty hooks."
Blood Circus was a true working man's band, four guys who actually had day jobs and were supporting families. The songwriting reflects the dreams of workers idled by future-less, monotonous jobs and the tinge of being from the wrong side of the tracks.

Songs like "Gnarly Twenty Foot" described the sheer horror, yet gleeful exhilaration of approaching a death-wave, the surfer's raison d' etre. "My Dad's Dead" describes the teen angst of hating yet emulating an alcoholic, womanizing father. "Road to Hell" is an anthem to the roadhouse where one may break on through to the other side.
Sub Pop later went on to release a Blood Circus Primal Rock Therapy CD with additional tracks (SP 177) almost in deference to a mighty era that had wilted badly in the brilliantly gleaming spotlight of the hype-machine that consumed grunge and regrettably, some of the souls who were participants.
Like an irritating and eccentric old neighbor, Blood Circus has managed to continue inflicting their musical sensibilities on the general public, and occasionally play out in Seattle (just like old times) as well as continuing to release odd-recorded offerings in sporadic fashion.

"Blood Circus: Primal Rock Therapy – Sub Pop Recordings 88-89" (SP 177) is available on
Sub Pop's website
, as well as other online venues.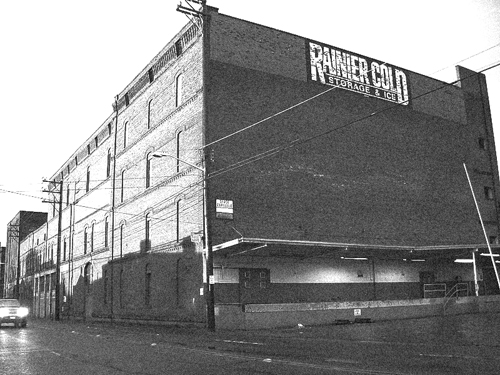 © Joe Mabel
In the late 1980's, emerging out of the dive-bar cesspool of the Northwest's worst neighborhood, four middle-class charlatans who fancied themselves musicians crafted an assortment of surf and biker songs: PRIMAL ROCK THERAPY. This prehistoric shindig, that even the most brazen of hedonistic and tattooed critics savaged with a collective "thumbs down" hardly got positive attention, with the exception of a small devoted following that later became "the Seattle Grunge Scene." - To Blood Circus, "grunge" was something to be scraped out of a bong when there was no weed to be smoked.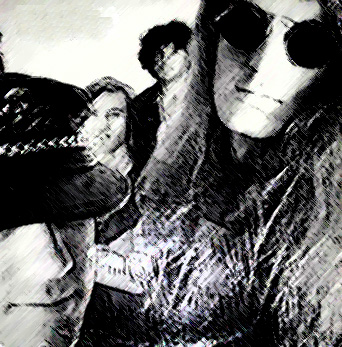 © Michael Lavine
Grunge Gets a Record Label...
While many ponder the impact, if any, of this seminal EP, most, aside from the more studious vinly-aholics across the vast wasteland that was "Grunge" do not comprehend the monumental feat that Blood Circus had attained, seemingly unaware themselves in eight short months of playing together. In their drunken, misguided, and marijuana-clouded youth, they had created the very first "grunge" single, SIX FOOT UNDER.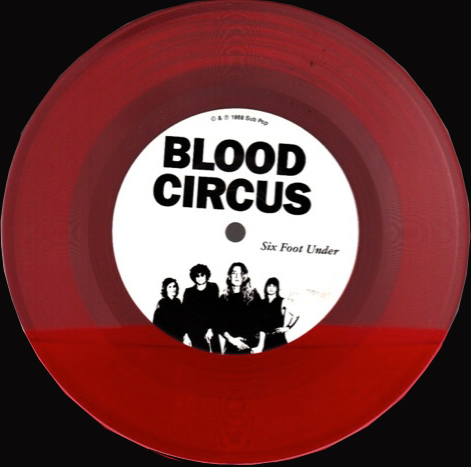 The die had been cast - now a parade of similarly-inclined loser-wannabe's would walk in the wake of Blood Circus, and into the stellar halls of infamy. You can probably think of a few of those fortunate (and not so fortunate) young people. Let your mind wander into the annals of history, for here, you have truly found the beginning of Grunge. (Read More)
© 1988- Blood Circus. All rights reserved.